Arrow Rock Quilt Camp
April 30 ~ May 4
Offering Classes for Beginning to Experienced Quilters
Arrow Rock Quilt Camp is all about giving quilters a relaxed atmosphere in which they can learn new techniques, eat well, make new friends, and have a good time.
***************************
Choose up to three classes, or one class three days,
~ or one class for two days + another class ~
the choice is yours 
*************************************************
Klonda Holt will teach the pattern "Churn Dash Checkers"


Klonda discovered the art of quilting in 1990.  When she took that first step, she had no idea how it would change her life and the joy she would find in creating textile.  Now she spends much of her free time making quilts and wall hangings.  In her quest to perfect her art, she has taken many classes from nationally known teachers.  She is a member of the Lee's Summit Quilters Guild and the American Quilters Society. Klonda has had her quilts juried into AQS shows in Paducah, Des Moines and Houston.  Her quilts have been shown in local and national shows as well, and won many awards.  She has made commissioned pieces and sold many of her quilts to collectors.  She has taught classes at Quilters Station in Lee's Summit, MO.,  presented lectures, workshops and trunk shows to various quilt guilds.   Her work has been included in several books:  Borders and Finishing Touches 2 by Bonnie K. Browning; Quilt Art 2008 by Klaudeen Hansen and Annette Baker; Come to the Fair, Confederates in the Cornfield and  A Bag of Scraps all by Edie McGinnis;  100 Sweet Treats by and for Quilters by Ann Hazelwood, and Winter Trees by Jane Kennedy.
This will be Klonda's tenth year to teach at the Arrow Rock Quilt Camp.  Students have found her to be a very talented and enthusiastic teacher who shares her quilting knowledge freely.
Klonda will be teaching the "Churn Dash Checkers" quilt designed by Deanne Eisenman. The quilt is an excellent example of "stash busting," so be prepared to use up the scraps you love and don't want to toss out!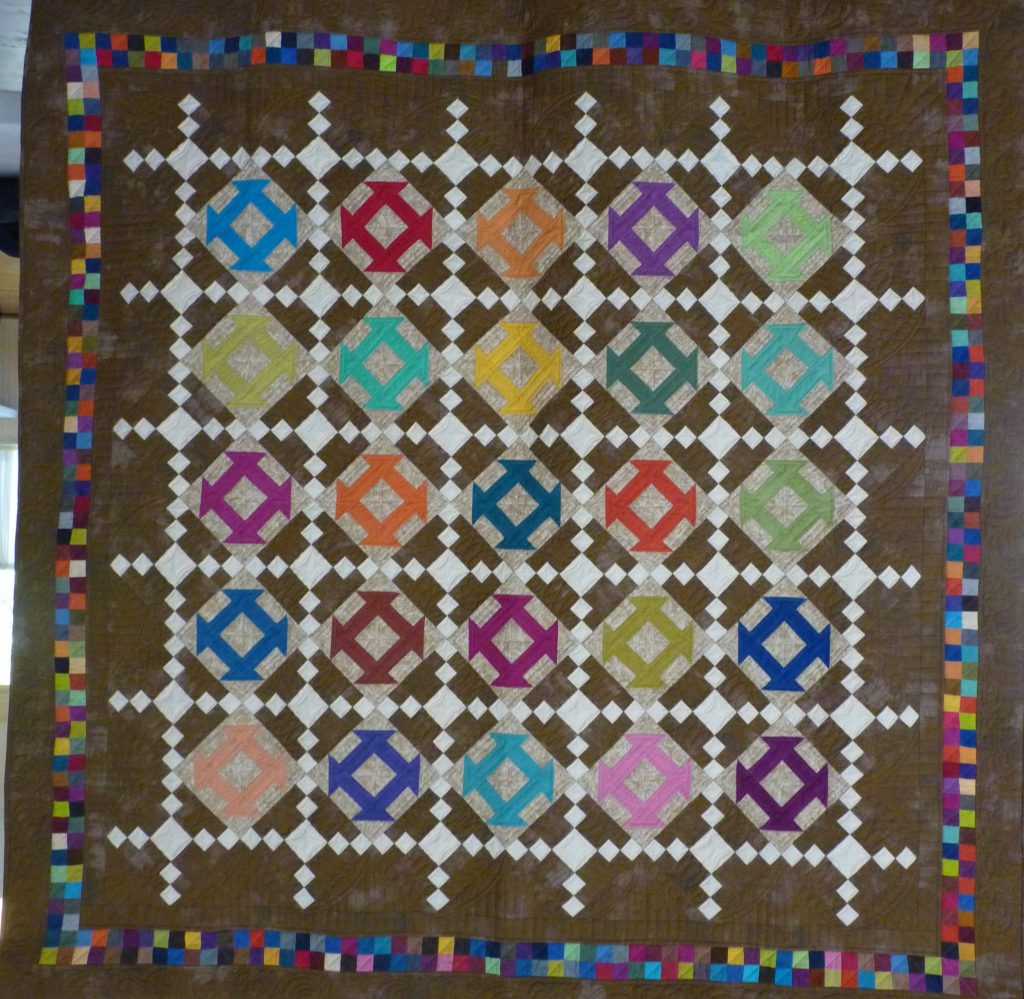 The quilt measures 64" x 64" and each block measures 6" finished.  You can get the pattern from the Nov./Dec. issue of Quiltmaker Magazine.  It is also available as a downloadable pattern from the following sites: www.quiltmaker.com – page 10 ($5.99)  and www.keepsakequilting.com/churn-dash-checkers-digital-pattern ($5.99).
"I suggest you come to class with all the pieces cut, pattern in hand and be ready to sew."
Also bring general sewing supplies include sharp small scissors, rotary cutter, ruler & mat, sewing machine & usual sewing supplies.  If you have any questions please email Klonda Holt at KLL99@aol.com
  ************************
Mary Durham will teach a mystery quilt.  
Mary is eager to help others and this class will be a fun way to learn some basic skills.  If you have an interest in learning to quilt, or just want to have fun and sew an easy quilt top during camp, this class is for you!
~~ 2018 Mystery Quilt ~~
Fabric Requirements:  Large Quilt
1 Layer Cake (42 -10 inch squares)
¾ yd. each of two accent fabrics, these should be solid or read as a solid, such as a tone on tone.
4 yds. Background, a neutral, either solid or tone on tone.
1-3/4 yds. For outer border (5" border).
¾ yd. for binding
Fabric Requirements:  Small Quilt
Also, thread,  12 1/2″ square up ruler, cutting mat, rotary cutter and  – Sewing machine and general sewing supplies.   This is a one, two, or three-day class, depending on your level of sewing experience.
*************************************************************
Candyce Copp Grisham will teach "Modern Dresden" and "Woven Octagons".   
Candy is a fiber artist, quilter and teacher.  She currently owns and operates a machine quilting business, Quilts by Candy.  She also exhibits and sells fiber art and quilts in area shops.  Candy  teaches quilting and other fiber arts at local quilt shops and guilds.  She has exhibited quilts in Paducah with the American Quilter's Society, in Houston at the International Quilt Festival, with the National Quilt Association in Columbus, Ohio, as well as locally.  She has received awards for quilts she has made and others she has quilted. Several of her quilts have been featured in books.
Her special passion is translating traditional into contemporary quilts, exploring new techniques and presentations while basing work on the traditional.  She lives and works in Washington, Missouri with her husband Tom.    Icandyfiberart.com
This will be Candy's third year to teach at camp.   Candy has taught at many venues and students enjoy learning these techniques.
Supply List for Modern Dresden*:
*Fee for pattern:  $10.00 payable to Candy 
Basic sewing supplies: pins, neutral thread, scissors
Sewing machine in good working order with a ¼" foot
Basic rotary cutting tools –28mm and 45 or 60 mm cutter, 12-18" ruler
Mat
½ yard tracing fabric (light weight, used to copy patterns) If not able to find bring 1 yard muslin or lightweight facing
Fusible interfacing ¼ yard (fusible only on one side) or soft stabilizer
Marking tools of your choice
Turning tool of your choice

Creative Grid Dresden ruler and 3 ½ "circle – after trying many rulers this one has been my favorite. The circle is included in the package.

               It is an 18 degree wedge and available from quilt shops, Amazon, internet etc.  If you have trouble finding it please let me know.
Fabrics for plates:
~~ ¼ – ½ yards of 18-20 fabrics.  Pick fabrics you like together but also with some contrast
~~ ¼ yard cuts are preferable to fat quarters if possible
Centers of plates can be fussy cut from any variety of fabrics – bring several with large prints or graphic detail.
Bring a large variety of fabric.  Look for ones you love but don't try to match perfectly.  Value and color contrast work the best.  Bring more if you wonder.
Fabrics for background:
I pieced the background of mine.  Others have used hand dyed fabrics in one piece.
If you wish to piece a background, bring 8-10 fabrics ½ yard each minimum.
For a solid background in this size quilt you will need 2 yards of fabric.
This can be chosen a later date as well based on the number and design of your plates.
Before quilt camp, please precut:
4 – 6 ½" strips from fat quarters (if using full width of fabric cut 2 strips)  – These can be from 2 or 4 different fabrics. (If from two fabrics cut 2 strips from each fabric, if from 4 fabrics, cut one strip from each fabric).
40 – 2 x 3" rectangles from tracing fabric or muslin
Candy will also teach 
Creative Grid # CGRT90:   http://www.thequiltpatch.com/90-degree-quarter-square-triangle-ruler-8-inch-finished.html
OR             Nifty Notions Quilt for the Cure ruler: NNQS http://www.kayeengland.com/cut-for-the-cure-quarter-square-ruler/
**********************************************************************************
 Shelly Pagliai will teach hand work
Shelly credits her maternal grandmother, Mildred, for getting her started down the road of quilting obsession, by enrolling her in  4-H sewing classes at the age of eight.  When Shelly's Great-Aunt Charlotte presented her with a garbage bag of scraps a few years later, she found her passion there among the fabric pieces.  While the fabric scraps of inspiration have yet to be made into a finished quilt, her aunt's gift in 1972 launched a full-fledged quilting career.
By 1985, she had found her quilting niche in the needle-turn method of hand applique, but that didn't stop her from trying other techniques.  In fact, by 1996 she was teaching classes ranging from hand piecing and applique to quilt design. Those classes would carry over to her shop, Prairie Moon Quilts, where she began to sell her own patterns and kits in 1999. 
With the launch of her web site and blog in 2008, Shelly has explored even more opportunities for spreading the quilting word. In 2009, she purchased a long-arm quilting machine, and has been doing professional machine quilting for customers and other designers ever since. Her work can be seen in several popular magazines, in shows and other venues, as well as online.
When she's not teaching class, selling her designs, operating the long-arm, running her charity "Necktie Social", or designing her own award-winning, nationally exhibited quilts, Shelly can be found spending time with her favorite Cowboy and all their many animals on their Missouri ranch.
 See her website at www.prairiemoonquilts.com
Congratulations to Shelly for her recently published book, "A Simple Life,  Quilts Inspired by the '50s."  The beautiful main quilt, Hazel's Diary, was featured in The Kansas City Star block-of-the-month program.
Shelly will be teaching  Hand Applique  using a wall quilt project "Autumn Welcome" measuring 14″ x 21″
 
Hand Applique Class Description — "Autumn Welcome"
Students can choose the fusible method of applique or the needle-turn method of hand applique as they create this fall-themed welcome quilt.
Learn how to properly layer overlapping pieces, and how to embellish the pieces and add additional details with hand embroidery.
Lots of applique tips and tricks will be tried and discussed, and complete information on how to finish the wall quilt after class will be provided.    The wall quilt finishes at 14″ x 21″.
Click on pdf link for supply list: AutumnWelcomesupplylist .
If you want to learn or improve your hand work skills as noted, this is a class you will enjoy.
This will be Shelly's fifth year to teach at camp.  Students have found that Shelly's expertise in this area is invaluable.
 *****************************************************************************