Arrow Rock Quilt Camp
May  4 – 8, 2020   ***NOTE*** Classes for 2020 will be posted around September 1, 2019 
Offering Classes for Beginning to Experienced Quilters
Arrow Rock Quilt Camp is all about giving quilters a relaxed atmosphere in which they can learn new techniques, eat well, make new friends, and have a good time.
***************************
Choose up to three classes, or one class three days,
~ or one class for two days + another class ~
the choice is yours 
*************************************************
Klonda Holt will teach "Stained Glass Quilt"


Klonda discovered the art of quilting in 1990.  When she took that first step, she had no idea how it would change her life and the joy she would find in creating textile.  Now she spends much of her free time making quilts and wall hangings.  In her quest to perfect her art, she has taken many classes from nationally known teachers.  She is a member of the Lee's Summit Quilters Guild and the American Quilters Society. Klonda has had her quilts juried into AQS shows in Paducah, Des Moines and Houston.  Her quilts have been shown in local and national shows as well, and won many awards.  She has made commissioned pieces and sold many of her quilts to collectors.  She has taught classes at Quilters Station in Lee's Summit, MO.,  presented lectures, workshops and trunk shows to various quilt guilds.   Her work has been included in several books:  Borders and Finishing Touches 2 by Bonnie K. Browning; Quilt Art 2008 by Klaudeen Hansen and Annette Baker; Come to the Fair, Confederates in the Cornfield and  A Bag of Scraps all by Edie McGinnis;  100 Sweet Treats by and for Quilters by Ann , and Winter Trees by Jane Kennedy.
This will be Klonda's 13th year to teach at the Arrow Rock Quilt Camp.  Students have found her to be a very talented and enthusiastic teacher who shares her quilting knowledge freely.
STAINED GLASS QUILT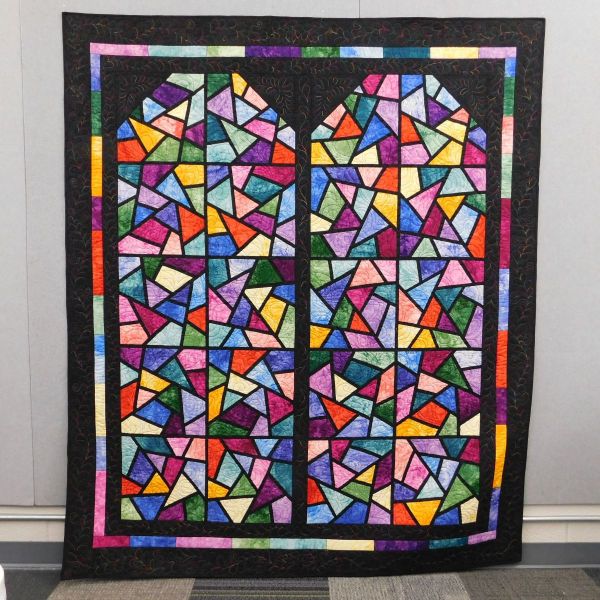 This is a fun quilt, you are the designer.  This quilt requires no purchasing of a pattern or special rulers.  You make your own pattern from freezer paper.  It can be made any size you choose, I decided to make mine look like a church window.
SUPPLY LIST
12–15 fat quarters.  There should be 1 or 2 yellows to add light to the block.  You will need as many different colors as sections in your block, which you will design.  So bring extra for flexibility.  My quilt above has 15 colors. But anything goes, but remember you are trying to achieve a stained glass look.

Black Fabric for leading between the colors—2 yards minimum.  The leading does not have to be black, but should be dark enough to show stark contrast to the other colors.

Freezer paper- 2 squares 18" x 18" (or just bring the roll)

Ruler—at least 14" long

Pencil or thin point marker to draw on freezer paper

Basic sewing supplies: sewing machine, rotary cutter, etc.
This can be taken as a one, two or three day class.
If you have any questions feel free to contact me KLL99@aol.com or
 816-809-7070.              Klonda Holt
  **********************************************************************
Mary Durham will teach 
~~ 2020 Mystery Quilt ~~
Mary has been sewing and fondling fabric for as long as she can remember, which led to her first job in high school working at a fabric store and her very own sewing machine at age sixteen.  This will be Mary's fourth year to teach at camp.
After an 29-year career as a Family and Consumer Science teacher, she has kept very busy machine quilting and babysitting grand kids.  She made her first quilt in 1984 when her first child was born, and has had a passion for quilting ever since.
Mary loves all types of quilts but especially enjoys making scrappy pieced ones.  One of her proudest quilting accomplishments has been teaching her eight year old granddaughter to sew and hearing her say "This is such a blast!"
Mary enjoys teaching and this class will be a fun way to learn some basic skills.  If you have an interest in learning to quilt, or just want to sew an easy quilt top during camp, this class is for you!
This mystery quilt will look great in many types of fabrics, such as holiday, Kaffe Fassett, flannels, Americana, geometrics, batiks, etc.
The finished size is 62" x 80″ with borders.
Fabrics needed:
One jelly roll
3 3/4 yards contrasting background fabric  (this fabric will be the background in the blocks, border and binding).
If you choose to precut your background fabric,  cut 32 2 1/2″ strips.
Also, thread,  ruler, cutting mat, rotary cutter, sewing machine and general sewing supplies.  
This is a one, two, or three-day class, depending on your level of sewing experience.
*************************************************************
Candyce Copp Grisham
will teach "One Block Wonder"  ~~One fabric and so…many looks!  This class will teach you how to stack fabric repeats and form hexagon blocks to create a kaleidoscope quilt with no two blocks the same.  The fun is seeing what you can come up with by arranging the blocks to create your own unique design!  You can use yardage or panels.
Candy is a fiber artist, quilter and teacher.  She currently owns and operates a machine quilting business, Quilts by Candy.  She also exhibits and sells fiber art and quilts in area shops.  Candy  teaches quilting and other fiber arts at local quilt shops and guilds.  She has exhibited quilts in Paducah with the American Quilter's Society, in Houston at the International Quilt Festival, with the National Quilt Association in Columbus, Ohio, as well as locally.  She has received awards for quilts she has made and others she has quilted. Several of her quilts have been featured in books.
Her special passion is translating traditional into contemporary quilts, exploring new techniques and presentations while basing work on the traditional.  She lives and works in Washington, Missouri with her husband Tom.    Icandyfiberart.com
Look for her book, "Dresden Quilt Blocks Reimagined "  Now on shelves!

This will be Candy's sixth year to teach at camp.   Candy has taught at many venues and students enjoy learning these techniques.
One Block Wonder Workshop Supply List:
Fabric:  A large print with not too many colors and not too much open background.
You need to determine the repeat in order to buy the correct amount.
24'' repeat – buy six repeats (about 4 ¼ yards) to make a lap, twin or double.
Buy extra to add a border.
COUNT YOUR REPEATS TO BE SURE
For queen or king, buy 12 repeats (approx. 9 yards).
If the repeat is short (6-8'') buy 12 repeats.  Repeats are always in multiples of 6
To find your repeat:  Locate a specific focal point on the fabric and then move down to find it again.  Measure from the top of one motif to the top of the same one.  This is your repeat.
DO NOT WASH YOUR FABRIC.  YOU WANT BODY.  IF YOU HAVE WASHED IT, PLEASE STARCH AND IRON
Panels:  If you want to use panels for this project instead – buy 7
Materials:
Flower head pins – must have
Basic sewing supplies:  scissors, neutral thread, pins, seam ripper
Rotary cutting supplies – mat, cutter and 24'' ruler
60-degree ruler or regular rotary ruler with 60-degree line.  (Marti Michell 8963M 3-9" 60° triangle ruler or Clearview Triangle 10'' 60° ruler.
Sewing machine
Design wall or flannel backed table cloth for design wall.
Recommend:  One Block Wonder or One Block Wonder Encore book by Maxine Rosenthall.  Many samples and ideas to inspire your final design.
This class can be taken as a one, two or three day class.
************************************************************
 Shelly Pagliai
will teach a Block of the Month
Shelly credits her maternal grandmother, Mildred, for getting her started down the road of quilting obsession, by enrolling her in  4-H sewing classes at the age of eight.  When Shelly's Great-Aunt Charlotte presented her with a garbage bag of scraps a few years later, she found her passion there among the fabric pieces.  While the fabric scraps of inspiration have yet to be made into a finished quilt, her aunt's gift in 1972 launched a full-fledged quilting career.
By 1985, she had found her quilting niche in the needle-turn method of hand applique, but that didn't stop her from trying other techniques.  In fact, by 1996 she was teaching classes ranging from hand piecing and applique to quilt design. Those classes would carry over to her shop, Prairie Moon Quilts, where she began to sell her own patterns and kits in 1999. 
With the launch of her web site and blog in 2008, Shelly has explored even more opportunities for spreading the quilting word. In 2009, she purchased a long-arm quilting machine, and has been doing professional machine quilting for customers and other designers ever since. Her work can be seen in several popular magazines, in shows and other venues, as well as online.
When she's not teaching class, selling her designs, operating the long-arm, running her charity "Necktie Social", or designing her own award-winning, nationally exhibited quilts, Shelly can be found spending time with her favorite Cowboy and all their many animals on their Missouri ranch.
 See her website at www.prairiemoonquilts.com
Congratulations to Shelly for her recently published book, "A Simple Life,  Quilts Inspired by the '50s."  The beautiful main quilt, Hazel's Diary, was featured in The Kansas City Star block-of-the-month program.
Shelly will be teaching a Block of the Month (BOM)
For the supply list for these classes, click on this link
This will be Shelly's eighth year to teach at camp.  Students have found that Shelly's expertise in this area is invaluable.
*****************************************************************************